The people you see on the stage are by no means the only ones who play an active role in an NKP production.

If you can use a paste brush, ring a hire company, sew on a button, act, direct, stage-manage, make a cup of tea or listen to someone trying to learn their lines - then we'd love to hear from you.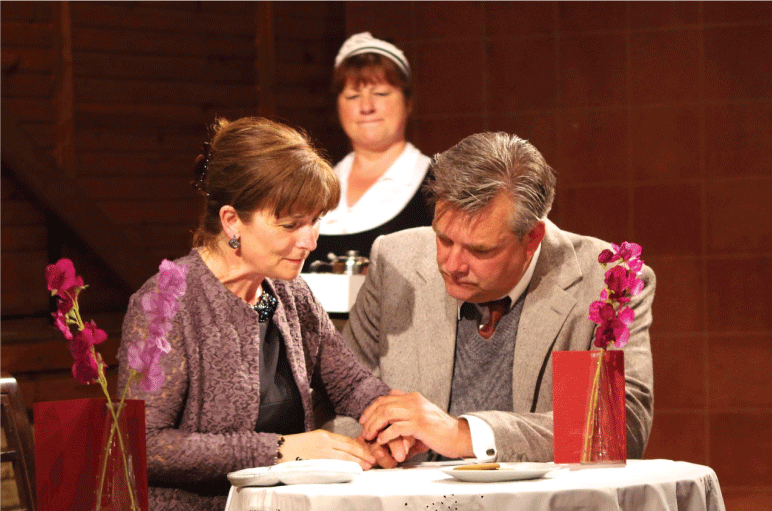 The Director
Casting. Preparation of rehearsal schedule.
Liaison with and direction of other areas. Overall responsibility for the production.

The Stage Manager
Executive officer during rehearsals and overall responsibility on performance nights. Preparation and keeping of prompt copy. Management of set and props. Checking of progress of each aspect of the production.
​
The Actors
Study the period of the play and characters of the parts with emphasis on own part. Learn lines. Attend rehearsals when required. Liaise closely with costume, props and stage managers.
Costume Manager
Research period. Estimate costs. Take measurements and make records. Organise team of construction and hand sewers. Arrange the hire of any costumes and accessories needed.
The Set Designer and Set Constructor
Draw floor plans. Brief and direct Set Constructors. Dress the set (furniture, pictures, plants etc). Estimate costs and procure materials. Organise set builders and painters. Dismantle set at end of production run.

The Props Manager
List required items. Estimate costs of items not readily available. Collect props in boxed groups. Ensure they are ready on time at appropriate side of stage.

The Graphics and Publicity Team
Design and maintain website, design and organise printing and display of large and small posters; press and radio advertising, photographs, releases. Design and produce programme artwork and oversee printing
​
The Ticket Secretary
Arrange pricing policy. Estimate numbers. Issue complimentary tickets and Patron tickets. Prepare seating plan and keep careful records of ticket sales. Monitor tickets sold on nights. Collect monies and pass to Treasurer.

The Advertising Manager
Organise advertisements and collect payments. Issue any complimentary tickets for sponsor
​
​
​